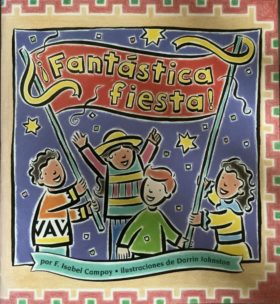 BOOK DESCRIPTION
In Fantastica Fiesta I play with alliteration and try to write a sentence in which all words begin with a same letter of the alphabet, followed by a character whose name also starts with the same letter. For example in the A: Amigos alegres anuncian la fiesta. Antonio está en la fiesta. And for the letter L: Lazos lindos lucimos en la fiesta. Luis está en la fiesta.  The overall topic relates children and the activities they can be part of during popular festivities in the Hispanic world.
The illustration plays a part in making this book playful by hiding the letter in question in between the design and drawing of the page, so that students have to find it.
AUTHOR'S NOTE
The popularity of Alphabet books is well deserved. I dare say that perhaps all authors who write for children have at least written an Alphabet book. This was my first. My day from A to Z, published by Santillana as well as three others (to be published) have provided me with the opportunity to research this "genre" and be reminded of how popular it is, not only for children but also for adults.