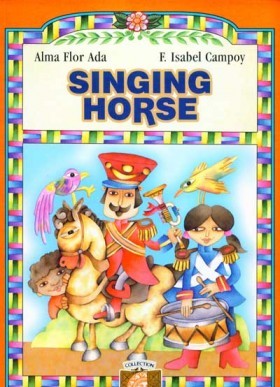 Book Description
This oversize anthology, with vibrant and original illustrations, honors poets from various Spanish-speaking countries or regions.
Each section opens with a poem to the country or region. This is followed with a poem about a poet –as a way of making children aware that poetry is the product of poets which we respect and honor. Selections from the specific poet completes the section. The countries and poets included are:
Puerto Rico is represented by poems by
México is represented by poems by
Francisco Gabilondo Soler ["Cricrí"]
Argentina is represented by poems by
Venezuela is represented by poems by
España is represented by poems by
Latinos are celebrated through poems by
Author's Note
Poetry is a child's best friend. A poem is a trea­sure that can remain with us for­ever. New words, new struc­tures, new images, ideas, val­ues and reflec­tions can be part of the poem's gift. Rhyme, rhythm or cadence will facil­i­tate remem­ber­ing it.
A poem a day is an infal­li­ble pre­scrip­tion for an engag­ing class­room and happy chil­dren. Facil­i­tat­ing access of chil­dren to poetry has been one of my life quests.
Alma Flor Ada and I have pub­lished a series of seven antholo­gies of poetry in Span­ish as part of the Cielo abierto Series: Gor­rión gor­rión, La rama azul, El Verde limón, Dulce es la sal, Nuevo día, Huer­tos de Coral and Ríos de lava. We are delighted to have included there poetry from the best poets from the Spanish-speaking world.
Recently we have pub­lished a series of books of rhymes from the oral tra­di­tion in bilin­gual edi­tions, in order that Eng­lish speak­ers can also get to know and enjoy our folk­lore: ¡Pío Peep! and MuuMoo are col­lec­tions of rhymes. Merry Navi­dad is a col­lec­tion of vil­lan­ci­cos or Christ­mas car­ols, and Ten Lit­tle Puppies/Diez per­ri­tos a book inspired on a tra­di­tional pop­u­lar rhyme.
The four poetry antholo­gies of Gate­ways to the Sun / Puer­tas al sol, in par­al­lel edi­tions in Eng­lish and Span­ish are another con­tri­bu­tion in the effort to make poetry acces­si­ble to all chil­dren. The beau­ti­ful pre­sen­ta­tion of these books, where the artis­tic illus­tra­tions are a wor­thy com­pan­ion to the poems gives both Isabel and myself immense satisfaction.