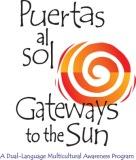 This col­lec­tion high­lights the genius, the tenac­ity and the achieve­ment of His­panic cul­ture. For His­panic read­ers, the col­lec­tion pro­motes pride in their cul­ture; for non-Hispanic read­ers, it fos­ters an appre­ci­a­tion and an acknowl­edg­ment of—and a respect for—Latinos. The col­lec­tion com­prises the fol­low­ing 6 series. Each book and jour­nal is pub­lished in sep­a­rate edi­tions in Eng­lish and in Spanish.
Poetry Series Gate­ways to the Sun
These poetry antholo­gies are divided in sec­tions fea­tur­ing poets from var­i­ous coun­tries from the Span­ish speak­ing world. The sec­tions open with orig­i­nal poems by Alma Flor Ada and F. Isabel Cam­poy cel­e­brat­ing the poets and the poet's coun­try of ori­gin. Selected poems by the fea­tured poet com­pletes each sec­tion. The con­tri­bu­tion of Lati­nos is acknowl­edged as well as that of the anony­mous poets who cre­ated the rhymes of the tra­di­tional folk­lore, enrich­ing our heritage.
Books
Jour­nals
Art Series Gate­ways to the Sun
A wide vari­ety of gen­res, tech­niques, media, and his­tor­i­cal events in His­panic art are depicted in these over­size strik­ingly beau­ti­ful books. Each book includes repro­duc­tions of paint­ings selected from the best His­panic artists of all times, from clas­si­cal to con­tem­po­rary. Each paint­ing is accom­pa­nied by brief poetic readings.
Each book is paired with an inter­ac­tive jour­nal where chil­dren can learn more about art and begin their own artis­tic expressions.
Books
Jour­nals
Biog­ra­phy Series Gate­ways to the Sun
This series offers the biogra­phies of twelve sig­nif­i­cant fig­ures from var­i­ous coun­tries in the Spanish-speaking world, rep­re­sent­ing var­i­ous fields and occu­pa­tions. These his­tor­i­cal and con­tem­po­rary fig­ures are role mod­els, who over­came obsta­cles to make a dif­fer­ence in the world.
Books
Jour­nals
The­ater Series Gate­ways to the Sun
The­atri­cal adap­ta­tions of well known sto­ries and folk­tales as well as orig­i­nal plays are enhanced by beau­ti­ful art. The illus­tra­tions, by sev­eral His­panic artists, sug­gest cos­tumes, props and stage designs to help on the stag­ing of the play
Lan­guage Series Gate­ways to the Sun
These frac­tured fairy tales books bring new twists to the lives of well-loved char­ac­ters from sto­ry­books. They pro­vide ample oppor­tu­ni­ties for lan­guage devel­op­ment as they use diverse forms of language.
His­panic Lands Series Gate­ways to the Sun
Three over­size books on the rich­ness and diver­sity of the Spanish-speaking coun­tries of the Amer­i­cas. The poetic, but highly infor­ma­tive text, brings atten­tion to the extra­or­di­nary achieve­ment of the indige­nous peo­ple. The strik­ing illus­tra­tions are care­fully designed by Mae­stro Felipe Dáva­los. They offer ample infor­ma­tion to sup­port and enrich the text that reflects on the responses of human groups to the chal­lenges of their envi­ron­ment, and empha­size respect towards diver­sity, envi­ron­men­tal and eco­log­i­cal aware­ness, com­mu­nity involve­ment, and appre­ci­a­tion for education.
ART DIRECTOR AND ILLUSTRATORS
One of the most salient char­ac­ter­is­tics of this series is its lav­ish pre­sen­ta­tion and the accu­racy and authen­tic­ity of the illustrations.
Within the expert direc­tion of Mae­stro Felipe Dáva­los a selec­tion of excel­lent artists from the Spanish-speaking world have cre­ated the illus­tra­tions for this series. They are:
Orlando Cabañas * Alina Cabr­era * Glo­ria Calderas * Car­men Carde­mil * Julián Cicero * Felipe Dáva­los * Rapi Diego * Blanca Dorantes * Viví Escrivá * Alain Espinoza * Javier Fregoso * Luis García-Fresquet * Patri­cio Gómez * Bruno González * Fran­cisco González * Dim­itrios Gul­balis * Gabriel Gutiér­rez * Isaac Hernán­dez * José Anto­nio Hernán­dez * María Euge­nia Jara * Clau­dia Leg­nazzi * Ana López Escrivá * San­dra López Escrivá * Mario Martín del Campo * Enrique Martínez * Manuel Mon­roy * César de la Mora * Car­los Palleiro * Ricardo Radosh * Beat­riz Rodríguez * Pablo Rulfo * Waldo Saave­dra * Manuel Ale­jan­dro Sal­gado * Jara­mar Soto * Sofía Suzán * Clau­dia de Teresa * Felipe Ugalde * Rosario Valder­rana * Fabri­cio Van­den Broeck